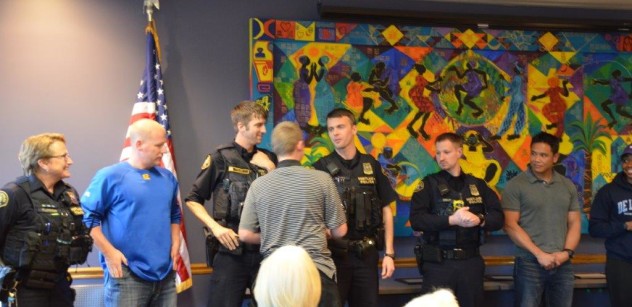 Welcome New Scholars!  2015 is a year of growth for the Z-Man Scholarship Foundation.  A record number of students applied to become Z-Man scholars.  Of those applicants, nine were awarded scholarships.  This is our largest number of scholarship awards in one year.  Z-Man scholars receive a network of support services, including mentoring from a police officer.
This year, we also welcome City Christian High School to our family of participating schools.  Applications for 2016 Z-Man Scholarships will be available starting in October.  Learn more…
Graduating Class of 2015:  Congratulations to Z-Man Scholars Madelin Delgado, Tony Denfeld, Carlos Rojas-Vigil and Victoria Trihn (Valedictorian).  Each of these scholars is an outstanding representative for their school, family and the Z-Man program.  We wish them much success in college and look forward to seeing the impact they will surely make on this community.
Community Service: This is our second year partnering with the Oregon Special Olympics Summer Games.  Scholars and police mentors volunteer over a two day period; helping to encourage these inspiring athletes.
.
Scholar Spotlight:  Congratulations to Z-Man Scholar Alumna, Zarihna Mustafa.  She is elected Student Body President at Spelman College for the 2015-2016 academic year.