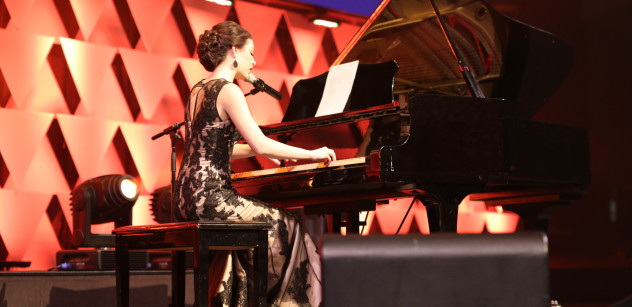 Talented students from Portland and the surrounding area took a step closer to reaching their dreams at the Z-Man Talent Within competition.  Acts included Salsa dancing, Rap, Modern dance, piano and vocals wow'd the audience and made it a night to remember.  Emcee Drew Carney for KGW 8 entertained the crowd and set the contestants at ease with his humor.
First prize winner was Madisen Hallberg from Gresham high school who wowed the crowd with her rendition of the Ray Charles classic "Georgia".  Madisen will receive $5000 towards her college education.
Abby Pred from David Douglas High School was our 2nd prize winner.  She danced her way into the hearts of the judges.  This was Abby's second time at the "Grand Finale".  It looks like second time was a charm for her.  She will receive $2,000 towards her further education.
Third prize was a tie between Dayron Bueno of Centennial High School and Victor Otero of Franklin High School.  Dayron kicked off the night with a high energy salsa dance.  Victor pumped up the crowd and spread a message of positive living with his rap performance.  Dayron and Victor will share a $1000 scholarship.
The Z-Man Foundation is already making plans for the 2016 competition help April 29th at City Bible Church.  If your school is not part of the Talent Within and you would like to find out how to be included, email us and let us know why your school should be a part of the Z-Man Talent Within.